Ceramic Braces at Focus Orthodontics
Cosmetic Orthodontics in Burwood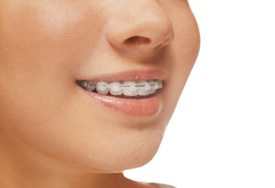 Ceramic braces are very similar to conventional metal braces, with the most notable difference being that the brackets are made from a transparent ceramic material. This makes them less noticeable, offering a more premium solution to metal braces. Despite their more expensive cost when compared to conventional metal braces, ceramic braces have become a popular choice among adults who wish to be more discreet about their teeth-straightening treatment.
Advantages of Wearing Ceramic Orthodontics
When you choose ceramic braces, you're able to take advantage of the precision and accuracy of conventional orthodontics, without sacrificing aesthetics for fixed metal appliances. Your new tooth-coloured brackets offer
A low-profile design that blends in with your smile
A cosmetic alternative for people who may not be candidates for clear aligners
Effective results for mild to more severe tooth misalignment
Smaller bracket design with no colourful bands or ligatures
Although your ceramic braces are visible from several inches away, they're subtle enough to go unnoticed when you're smiling for a photograph or talking to someone a few feet away from you.
What Is the Difference Between Ceramic and Metal Braces?
Ceramic orthodontics work almost the same way as traditional braces do. The only difference is that the brackets are made of tooth-coloured materials instead of metal, and the thin archwire attaches to them in a different manner, eliminating the need for extra wires or rubber bands to keep it in place. As such, many adults prefer them to correct issues such as crowding or gaps between their teeth.
When a removable aligner system isn't appropriate, ceramic braces provide a balance of aesthetics alongside predictable results.
Getting the Most Out of Your Treatment
As with traditional braces treatments, ceramic orthodontics require meticulous care and maintenance to ensure that your smile stays healthy during the alignment process.
Avoid hard or sticky foods that can potentially break the brackets or cause them to fall off. Brush carefully twice each day, using appropriate interdental aids such as tufted brushes or water flossers to clean around and between the teeth.
Get the Smile Advantage
Experience a healthy smile that's beautiful for years to come. Schedule a ceramic braces consultation today!

Ceramic Braces Burwood | Focus Orthodontics | (02) 9744 0796