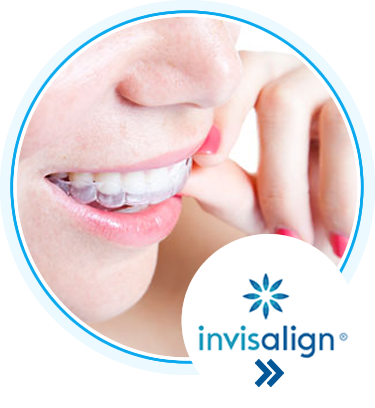 Q.

What is Invisalign?

A.
As a highly effective and popular alternative to traditional braces, Invisalign uses a series of clear plastic aligners to help wearers achieve a beautiful, straight smile. The aligners are worn 22 hours a day and can be removed to eat and brush your teeth.
Q.

Is Invisalign comfortable?

A.
Although Invisalign is very comfortable, there are instances where some discomfort may be experienced. These times will be when the teeth are moving, and are exacerbated when you place and remove the aligners.
Q.

Why can't you tell me how much it will cost over the phone?

A.
Because everyone is different, there's not a one-size-fits-all approach to pricing. For example, some patients may have a more severe malocclusion (misalignment) and require a longer treatment time than others. If in your particular case, you need to move your teeth more then your treatment will likely cost more.
Q.

How can I decide which orthodontist I should see?

A.
It depends on what preferences you as a patient and consumer have. Everyone wants somebody who is convenient, experienced, approachable, and good value. Like anything else in this world, we urge patients to ask their friends, do some research on the Internet and then make up their minds. We encourage you to check out our five-star reviews on Facebook!
Q.

I've heard that there are other appliances apart from Invisalign. What are they?

A.
There are indeed other clear aligner systems. Invisalign is excellent for some cases, and other systems work better for different cases. That is yet another reason why we need to examine each patient carefully before deciding on what is the most appropriate way forward.
Q.

Is Invisalign better than braces?

A.
This question is a complicated one. Without getting into the technicalities, there are certain cases which are better treated with a clear aligner system, and cases where it is better to treat with traditional braces. Also, there are some cases which are better treated with lingual braces. Again, it is all about finding the advantages and disadvantages of each system and tailoring them to the preferences and the needs of each patient.
If you have additional questions about Invisalign, please contact the practice today!